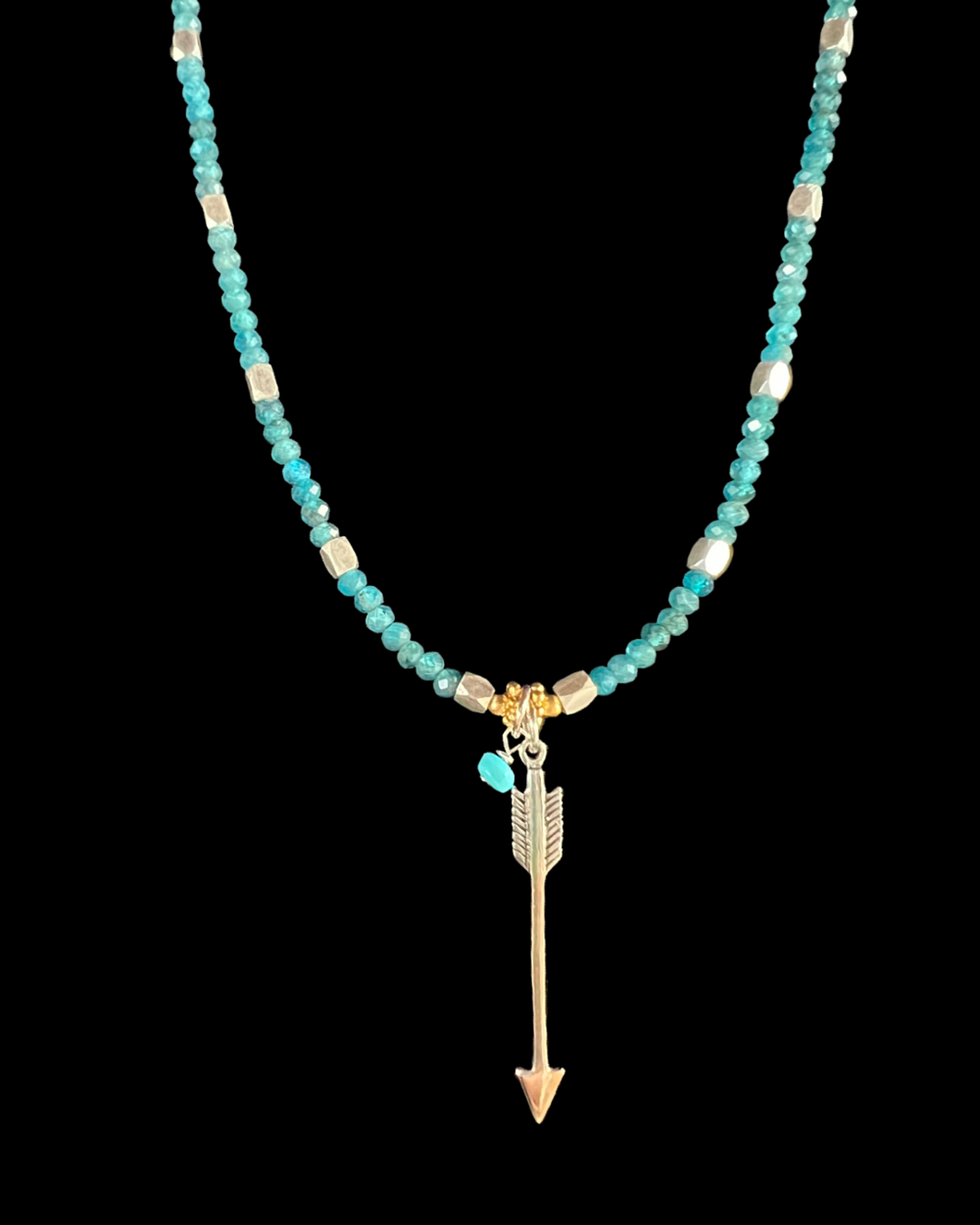 arrow w/apatite & turquoise
Regular price $235.00 $176.25 Sale
The long life arrow is used in the Tibetan Tse Dup soul healing ritual to bring good luck & longevity and is a symbol of blessing for ones life. 
Apatite helps to develop clairvoyance and is a stone of creativity making it helpful to use in manifesting. It can also stimulate the rise of kundalini energy and is known as a very spiritual stone. It helps one to get to the truth of a situation and assists in clearing negative energy.
Turquoise is known as the "Soul Stone" in Tibet as it helps to balance the mind and soul. It is highly protective against negative energy around the wearer and enhances communication skills. Turquoise helps the wearer to live ones personal truth in all areas, therefore it is known as a highly spiritual stone, providing a soothing energy and bringing peace of mind.
Beads are Sterling Silver & Gold Vermeil

Clasp is Sterling Silver
Pendant is .5 Wide x 1.5 Long

Length is 19.25 Inches

One Of A Kind & Infused With Love
Crystal Gypsy travels the world to find special amulets, crystals and stones that are handpicked for their energy. All Crystal Gypsy Designs are created with the intent to inspire healing and happiness within the wearer.
More then just a piece of jewelry, these designs are energized with blessings through ancient healing practices so that the stones are activated at their highest potential, making each 1 of a kind piece a sacred talisman to bring you peace, joy and love.